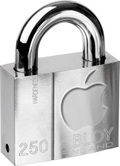 Dat het al een tijdje stil was op mijn weblog. Maar dat ik recentelijk gezwicht ben voor de Apple lock-in, leek me een nieuwe post waard. Ik had ooit al eens een PowerMac aangeschaft voor mijn muzikale aspiraties (die nog steeds aspiraties zijn). En ik had natuurlijk een iPod Mini, die na mijn reis naar Zuid-Afrika op mysterieuze wijze uit mijn tas verdwenen was.
Sinds december ben ik echter de gelukkige bezitter van een iPod Touch, en sinds januari van een MacBook Pro. Waarbij ik dus 'gelockt' ben op de Apple productlijn – wat ik overigens geen straf vind. Of althans, niet helemaal vastzit aan de Apple productlijn, onder andere dankzij het briljant VMWare Fusion. VmWare maakt het mogelijk om een 'Virtual Machine' te draaien op je Mac – een soort computer binnen een computer. Zo kun je bijvoorbeeld Windows XP installeren binnen je Mac; en dat draait als een zonnetje op mijn MacBook Pro! Alternatief is dat je je computer Dual Boot maakt, dus dat je bij het opstarten kiest of je hem als Mac of als PC wil laten draaien. Maar zo'n Virtual Machine bevalt me eigenlijk veel beter. Het opstarten ervan duurt een paar seconden, en het afsluiten ook; daar kan een 'gewone' PC niet tegenop.
Daarnaast biedt VMWare de mogelijkheid om je data te 'sharen' tussen je Mac en je Virtual Machine. Zo kan ik mijn bestanden dus zowel via de Mac als via Windows XP benaderen.
VMWare Fusion: niet gratis – het kost volgens mij een euro of 70 – maar meer dan de moeite waard!